PARFIL Capabilites
FILTER RESPONSE TYPES
Designs for Chebychev,
Butterworth or Flat Group Delay
responses may be computed for
any ripple and up to 17 sections.
TUNE CAPABILITY
A tuning screen may be accessed
to permit changing circuit
parameters such as even and odd
mode impedances or tap point
location.
TAPPED INPUT DESIGNS
Filter size may be reduced by
tapping directly into the input/ output parallel coupled lines.
VARY INTERNAL IMPED
This capability gives control over
line widths or rod diameters.
SPECIAL CAPABILITY for
ROUND ROD FILTERS
Round rod Interdigital or
Combline filters have additional
design choices as selecting equal
rod diameters, choosing side wall
or end wall distances.
FREQUENCY RESPONSE
Frequency response is computed
including loss, return loss, group
delay or S-Parameters. Also, an
S-Parameter file may be created.
GRAPHICS CAPABILITY
Frequency response or the
drawing of the filter may be
displayed on your monitor or
plotted or saved to a file. You
may also save to a Windows
Metafile or create a bitmap on
your clipboard for past
ing into another document such as
Microsoft Word.(T)
More Filters designed with Parfil
BAND-STOP NARROW BAND-WIDTH
STEPPED IMPEDANCE BAND-PASS
INTERDIGITAL OPEN STUB IN/OUT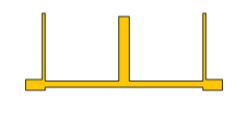 WIDE BANDWIDTH BAND-PASS
More Filters designed with Parfil
TRANSFORMER PARALLEL COUPLED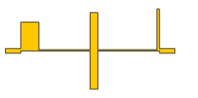 LOW-PASS WITH ZERO NOTCH
INTERDIGITAL SHORT IN/OUT
HAIRPIN PARALLEL-COUPLED IN/OUT
Examples of Designed Filters
All of the measured results include the fixture with SMA connectors and line losses leading to and from the filter. Consequently, the return loses are degraded with increasing frequency. None of the filters were tuned to optimize performance.
Parfil Design Measured Filter PCB Layout of Filter
Low-Pass Filter on Rogers 6002, .01 inches thick
4.075 GHz Interdigital Band-Pass Filter on Rogers 6002, .01 inches thick
6.5 GHz Interdigital Band-Pass Filter on N4380-13 RF NMaterial, .012 Inches thick
15.15 GHz Parallel Coupled Band-Pass Filter on Rogers 6002 Material, .01 Inches thick
1.05 GHz Interdigital Band-Pass Filter on Rogers 6002 Material, .01 Inches thick